Eliminate Unwanted Hair Once and For All
Unwanted hair is probably the most concerning aesthetic problem for women and men. Laser hair removal technology is safe, fast and highly effective in the permanent reduction of unwanted hair.
Our team of highly specialized laser professionals will recommend a personalized laser hair reduction plan based on the thickness of your hair, your skin color and your medical history.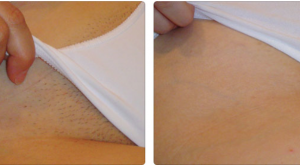 How Laser Hair Removal Works
Laser light therapy eliminates unwanted hair using selective photothermolysis, which combines selective absorption of the light energy by the melanin in the hair follicle with suitable pulse energy and width. The laser penetrates into the hair follicle and destroys it with minimal damage to the epidermis.
The area treated must be shaved within 24 hours prior to treatment. The practitioner will cleanse and apply cool gel to the treatment area, which will help prevent heat produced by the laser from damaging your skin. Through the hand-piece, gentle pulses of light are emitted and penetrate the skin to begin disabling the hair follicles. Hairs that were present in the follicles at the time of treatment will fall out, and future hair growth will be impaired.
Most of the hair wipes off immediately; the remaining hair falls out over a period of 1-2 weeks.
Side effects are rare and may include blistering, soft scabbing or redness at the treatment site, but typically resolves within a few days. You will be notified during your consultation if you are susceptible to possible side effects.
For successful results 4-6 treatments are required, spaced out 4-8 weeks apart.
For 2-4 weeks before and after treatment, you must limit your sun exposure.
At Svetlana's Skin Secrets we use the advanced technology of Harmony XL laser for removing unwanted hair from legs, underarms, face, bikini line or any other place on the body.