Get Skin That Glows With Oxy-Jet Treatments
Oxy-Jet treatment is an all natural, virtually painless, skin treatment procedure that dramatically improves the appearance and texture of your skin in a rapid manner and provides a discernible enhancement to the recipient from the very first treatment session.
We offer Oxy-Jet skin rejuvenation treatment that:
Exfoliates your skin by comfortably and effectively removing layers of dead skin cells that adversely impact your skin's natural luster.
Hydrates your skin through a gentle, moisturizing jet stream that cools and comforts your skin.
Oxygenates your skin, it infuses oxygen, vitamins (C,A,E,B and Hyaloronic acid) and minerals into the deep dermis to recharge and revitalize these cells thus helping your body to produce new collagen for truly effective skin rejuvenation results.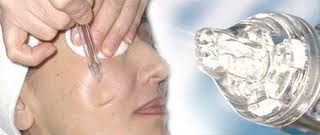 Treatments are recommend several times per year to optimize benefits:
Improve skin condition, texture and skin discoloration.
Unclog pores, improves appearance of acne, blackheads and spots.
Help skin rejuvenation making skin appear younger and fresher.